Pie # 8- Peach!
Wow! It has been eight weeks since our journey began. It is hard to believe. I am going to hand write our pie fiasco journey in a journal to give to my daughter when we have completed our year.
My husband chose this weeks' pie and he chose peach. O.K. Like the majority of the previous weeks, I have never made a peach pie. AGAIN, searching through recipe after recipe yielded tons of versions. One search led us to the peach pie called, "Get You A Boyfriend, Peach Pie". Adorable name, but, it will have to wait til later. :) Apparently, if you make that pie, you will get a boyfriend.
So, again, I chose to go with Betty Crocker's recipe for the filling, but I chose a crust recipe from this book. (Again-Robin, I am sorry you can't check it out from the library because it is here at MY house.)


It has a primer for beginning pie makers. Very handy. The only peach that looked healthy enough to buy from our local store was the 'white peach' variety. They tasted o.k., but I prefer the oranger looking ones. Pretty sure oranger is not a word, but you know what I mean.
This week I made the crust and the daughter made the filling.
This recipe for pie crust is for a 10 inch double crust.
3 C. sifted a/p flour
4 t. sugar
1t. salt
3/4 C. firm, unsalted butter ,c utr into 1/2 inch cubes
1/2 C. chilled vegetable shortening, cut into small pieces
6 to 8 T. ice water
(here's the thing about the water, you sprinkle it in 1 T. at a time, until you have achieved the desired consistency, but on this pie, we only put in 2 T. of water and it seemed to be fine. So, sometimes, when it calls for water, you may not need to put in as much. I am not an expert and maybe my crust troubles would all be over if I really put in 6T., but I feel like if I did, it would be just a big ball of paste.)
O.K., so sift together the flour, sugar and salt in a large mixing bowl. Add the butter and shortening and toss to coat the fats with flour mixture. With the pastry blender, cut the fats into the flour until the mixture resembles coarse meal (whatever that is) with some pea-size particles. Add ice water 1 T. at a time, until some of the mixture can be pressed against the side of the bowl and stay there. If so, then you are ready to roll it out. Ugh, rolling dough. The rolling part is fun, but transferring it to the plate takes a talent that I have not yet acquired . I read instructions for rolling it onto your rolling pin and then unrolling it onto the plate. I tried it. See. It is harder than it looks.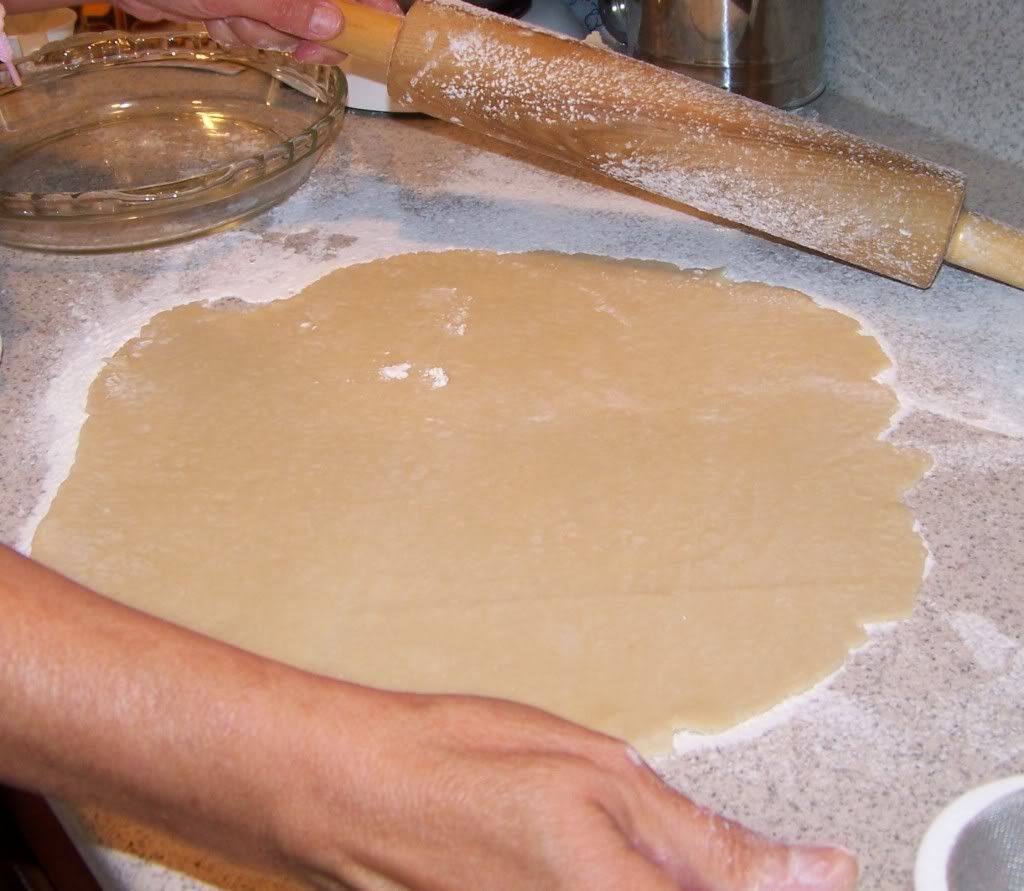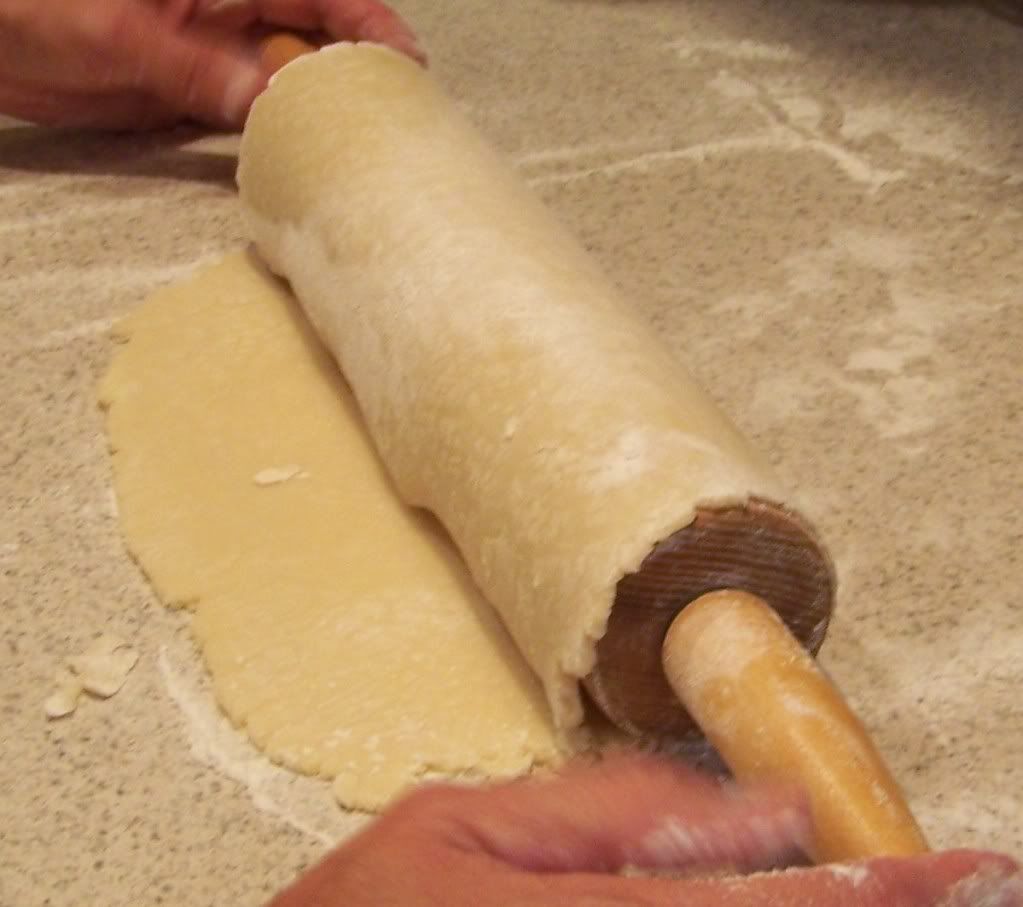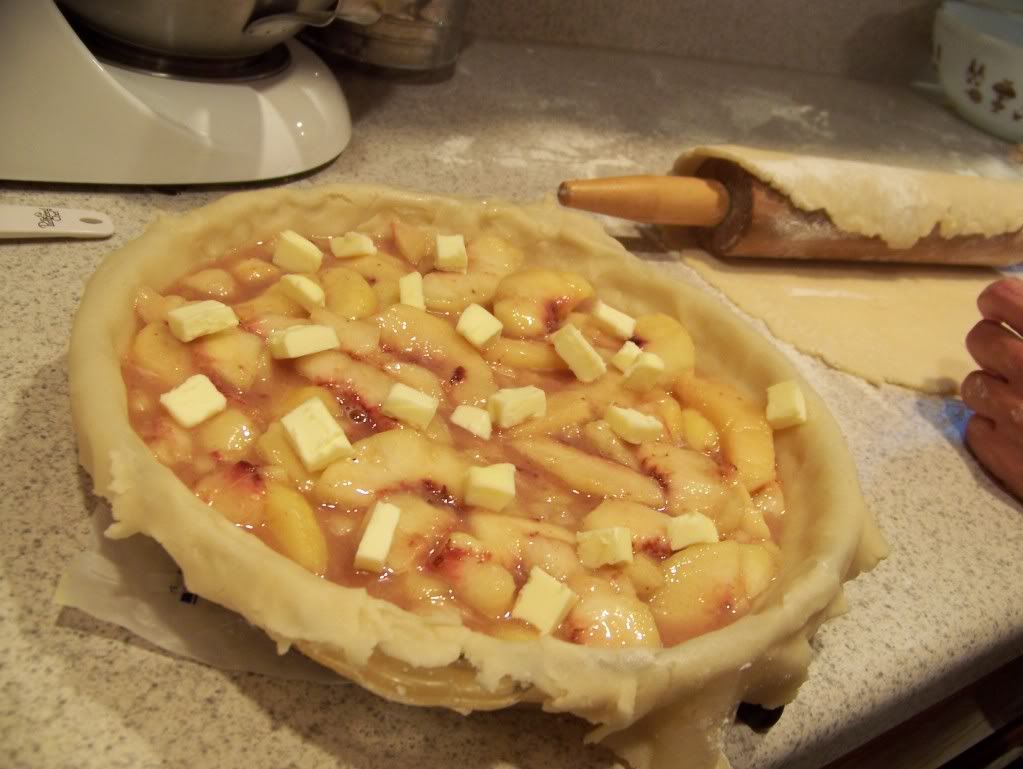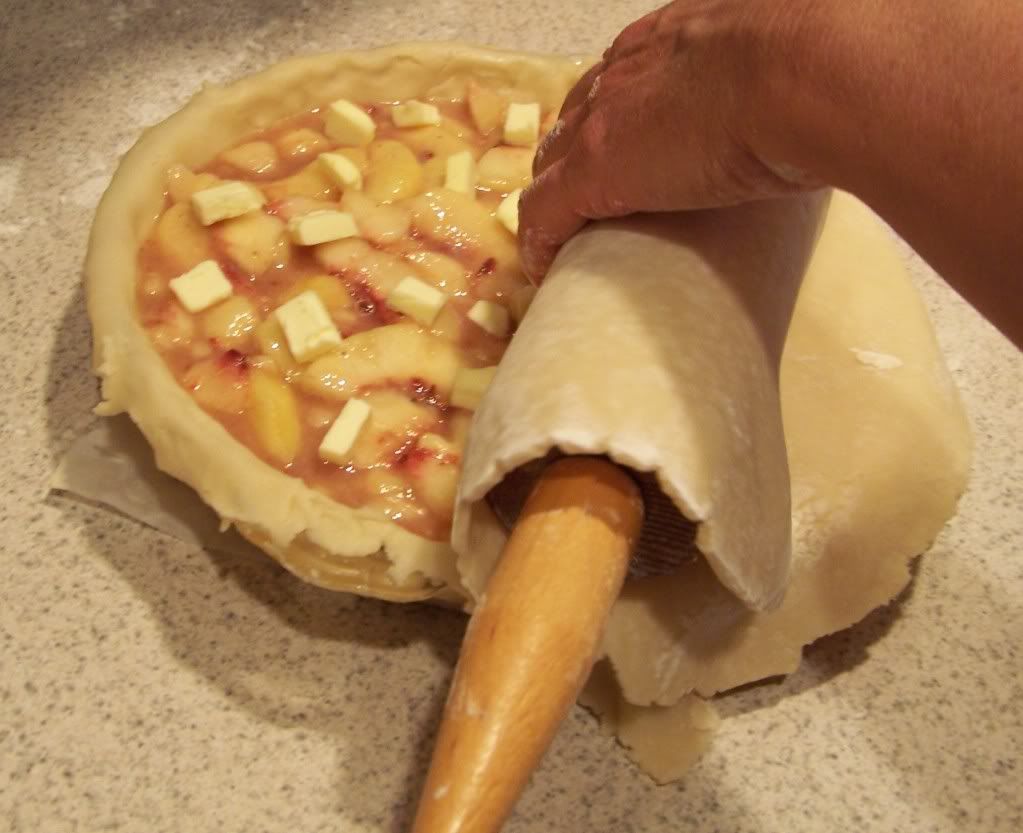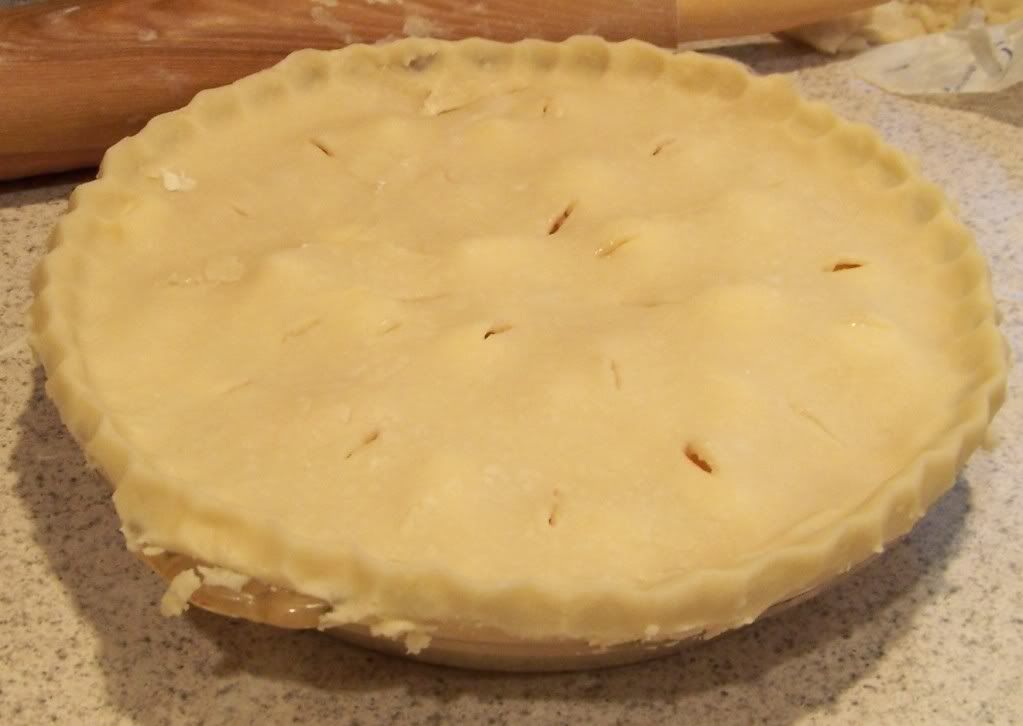 Some recipes say the only way to keep your finished pie from being mushy and the filling running out of the crust was to cook the filling first. I decided to just do it how Betty said. So my helper did the following to create a very fine filling.
5 C. sliced, peeled, peaches
1 t. lemon juice
1 C. sugar
1/4 C. a/p flour
1/4 t. cinnamon
2 T. butter, cut into small little pieces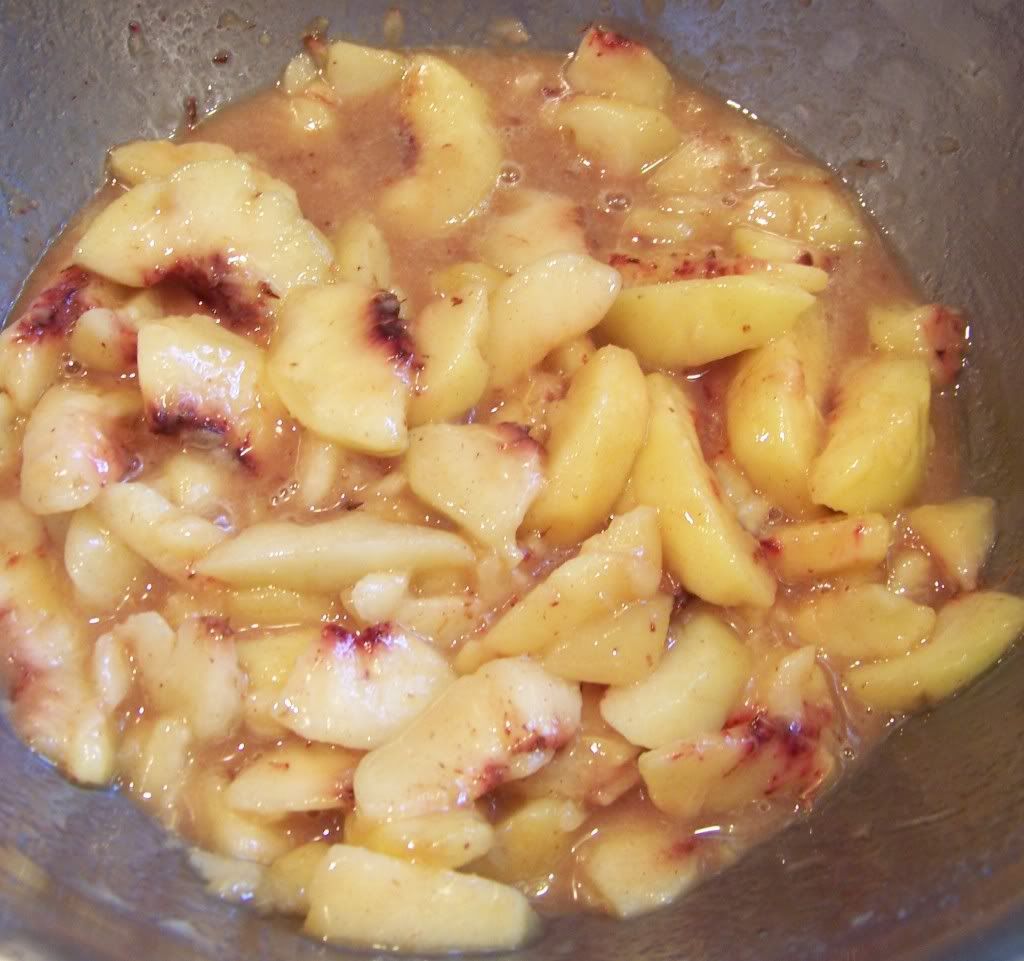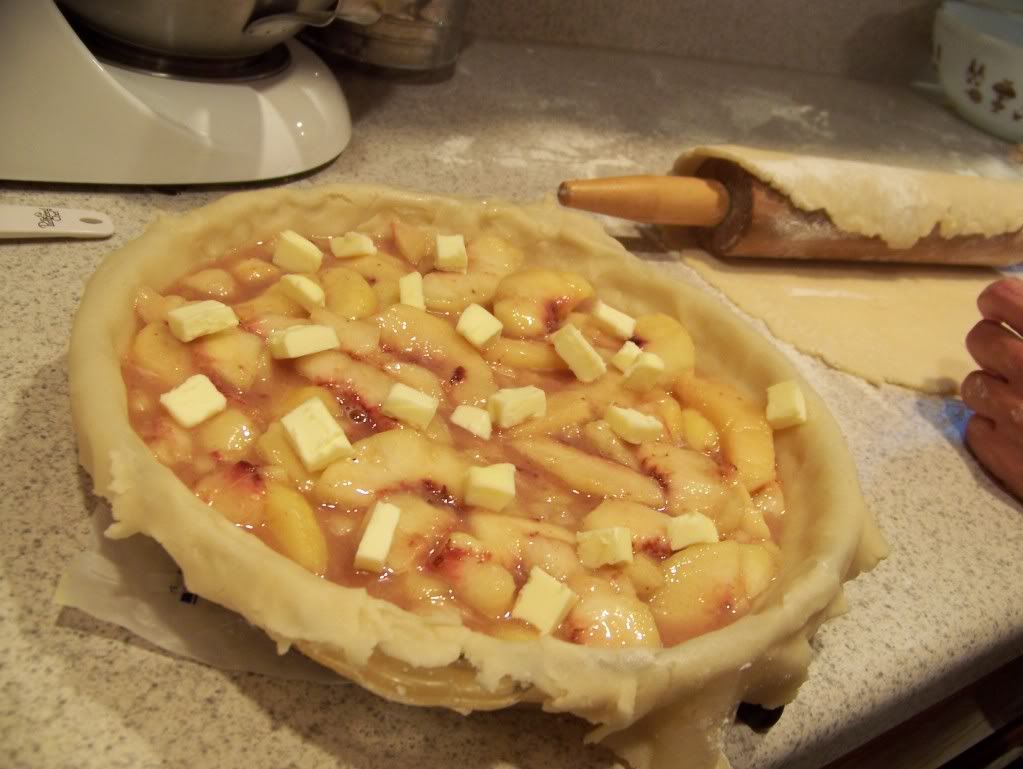 Mix peaches and lemon juice. Mix sugar, flour and cinnamon together and then stir into the peaches. Turn into the pastry-line pie plate. Dot with the butter. Cover with the top crust that has slits in it. Seal and flute.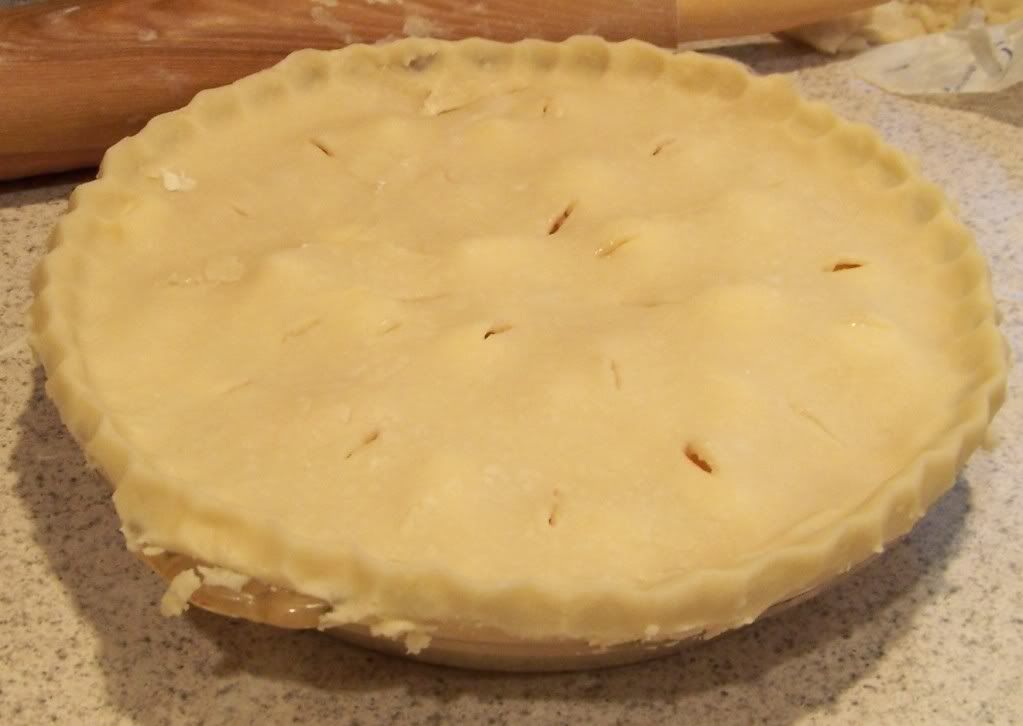 Use a pie shield to prevent excessive browning. Remove it during the last 15 minutes of baking.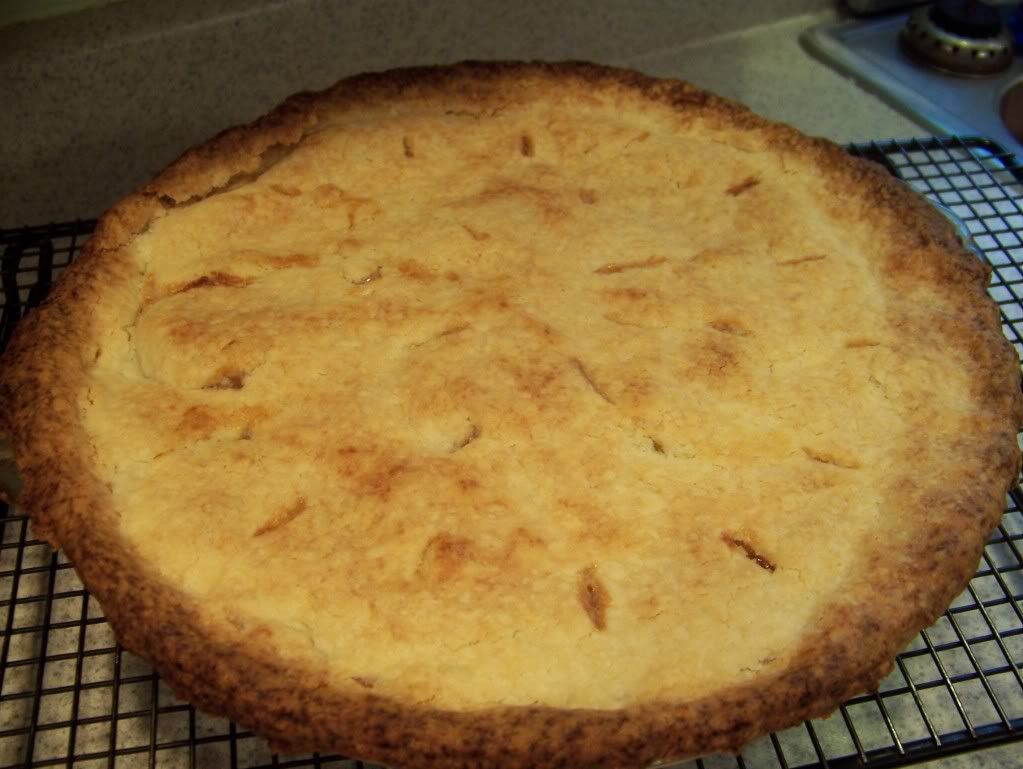 Bake at 425° for 35-45 minutes. We baked ours for 45 minutes.
This is a pie that gets better as the days go by.
It is great for breakfast.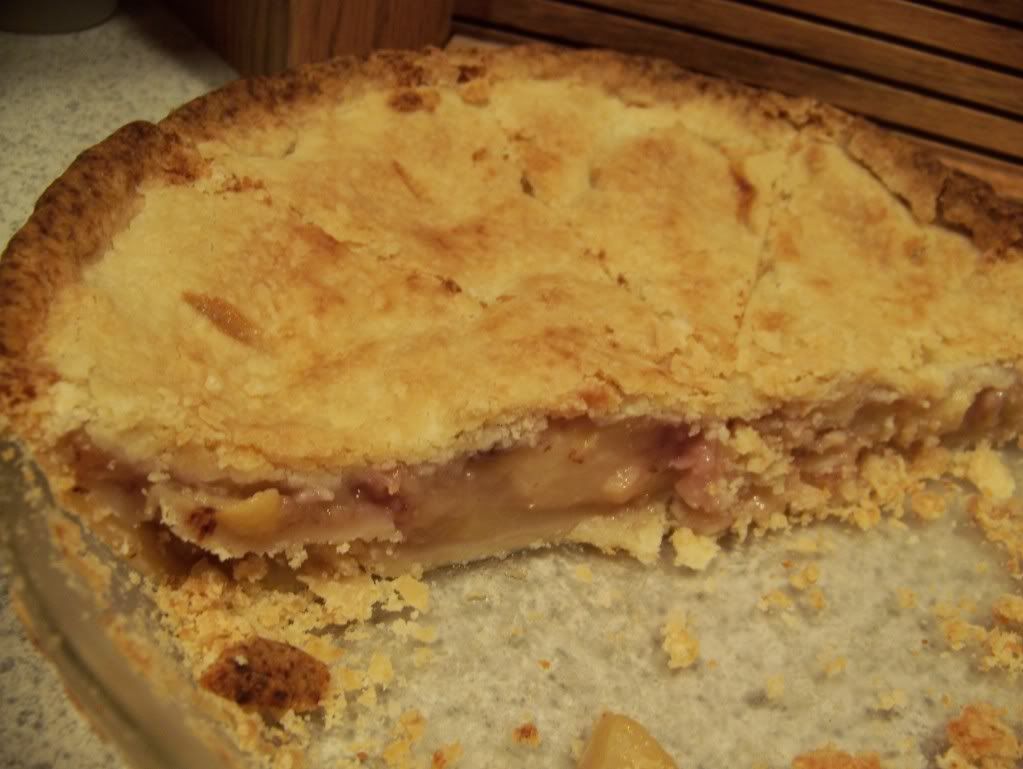 Over all, our household gives this pie three thumbs up!

Thanks for stopping by.
Until next time.