Pie # 23
Butterscotch Pie
I have been avoiding this pie like the plague. It wasn't until recently that I realized that it wasn't made out of the Nestle Butterscotch chips. The defining ingredient in butterscotch pie is 'brown sugar'. Go figure. Anyway, this pie was a pleasure to make. It made me feel relaxed. I only had to 'PHONE A FRIEND' one time. That was to my Aunt Martha. She is an uber-cook.
I was a bit distraught about the meringue. I have read that 'chill and meringue' don't care for each other. After a little more research this evening, I find that you bake it, let it cool away from a draft for 2 hours and then you may refrigerate it. Go here to get a little know-how about meringue.
There are a trillion butterscotch pie recipes. This is no surprise. All pies are like that. This particular recipe came from All Recipes.com.
I don't own a double boiler, so I made one from a large sauce pan and used a stainless steel mixing bowl for the top. Not ever having used one before I didn't really know what to expect. It was easy and fun. My Aunt Martha says that you don't have to use a double boiler, but if you don't you have to be VERY careful not to scorch the mixture. So I just thought I would be on the safe side and it was so liberating not to have to worry about scorching the stuff. I cooked it til it was thick and poured it into a baked pie crust.
If you don't want to click over there, here is the recipe.
1½ C. packed brown sugar
4 T. cornstarch
3 T. flour
2 C. milk
3 egg yolks (save the whites for the meringue)
2 T. butter, diced
1 t. vanilla extract
In a double boiler, whisk [whisking is fun] together the brown sugar, flour and cornstarch. Add just enough milk to make a paste. Mix in beaten egg yolks and then add the remainder of the milk. Cook slowly, stirring constantly; when thick remove from heat. Add butter and vanilla. Pour the filling into the bake pie shell.
Now for the meringue (yikes).
3 egg whites (at room temperature)
1/4 t. cream of tartar
6 T. sugar
½ t. vanilla extract
Beat egg whites until stiff. Beat in cream of tarter, white sugar and vanilla. I have read somewhere that once you start beating the mixture, don't stop until you are done.
Spread the meringue over the pie filling.
Bake at 375° until meringue peaks turn a golden brown.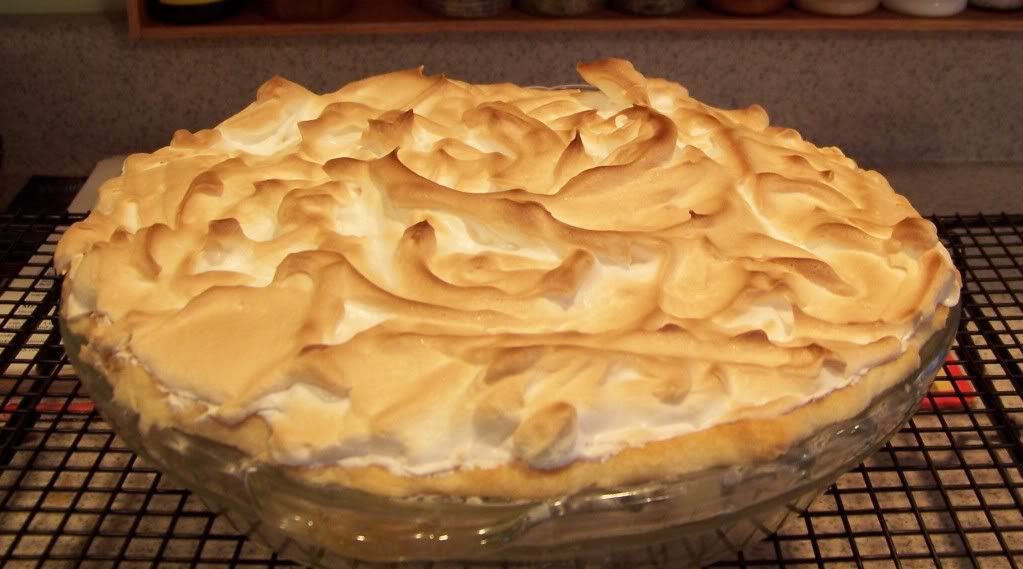 Do NOT despair on the meringue. It may not work out, but don't stop trying pies that call for meringue. Hang in there.
If you have a super duper easy meringue recipe that you would like to share, please do.
I don't know if you can see, but the meringue is not flush with the filling.

I honestly don't know what a perfect meringue looks or tastes like. This looks a tad undercooked.
I hope you try this pie. It is surprisingly delightful. It reminds me of Sugar Cream pie in a way. Both are very rich and I can only eat a small slice.
We watched Julie Julia this past week. I was saddened that a cute movie required fowl language. One of the sayings of Julia Child follows and I find it most encouraging.
When cooking you strive for perfection. But if it's not perfect, never apologize. No excuses! No explanations!

Until Next Time